The Updated Cardigan as a Flyaway. The perfect clothing item that is a staple to any and every wardrobe. The cardigan has been voted as the #1 sweater and here's why! No other clothing item is as versatile as the cardigan. It's light enough to wear during the spring and summer and warm enough to throw on your shoulders for the fall and winter. Transitional because you will be prepared and comfortable for any weather. Dress it up or down, either way they add interest to any outfit
. It is a perfect layering piece at the office, for date night, or anything in between. These cardigans can be found in a range of styles, sleeve lengths, novelty patterns, and colors.
There is so much to say about the classic and chic cardigan. This time no buttons. Bottom line, they aren't just for teachers anymore!
Celebs Seen on the Scene Swept Away in Flyaway Sweaters!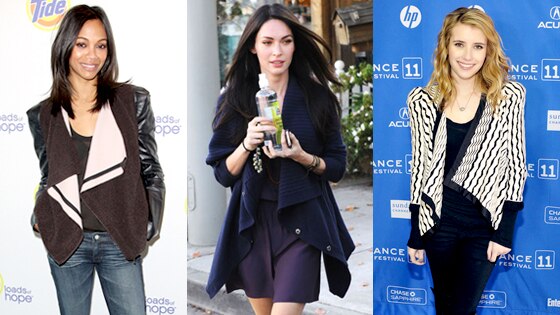 Zoe Saldana, Megan Fox, and Emma Roberts


http://www.mystyle.com/mystyle/b6489_give_your_look_midas_touch_with_gold.html