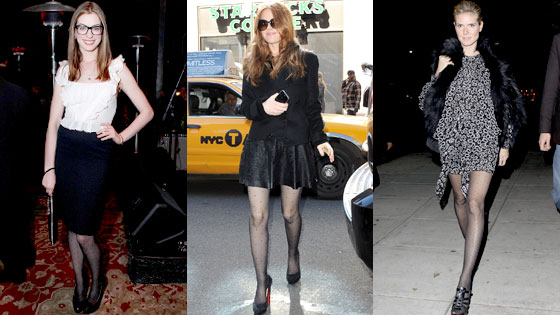 Anne Hathaway, Isla Fisher, and Heidi Klum
Do You Find This Style LEGit?
Patterned tights are more of a personal taste. A preferred accessory instead of a fashion trend, but if worn the right way can really make a significant statement about your own signature style. For such a playful print on the legs, dress more basic everywhere else. A simple black dress will look less dull and a basic top and shorts will not seem so boring when all the focus is on the legs.
As stated before, one of the easiest ways to add some interest to a basic outfit is to add patterned tights. Most of these tights have a flirtatious appeal with open-work patterns that lets your skin peek through to show texture. When you think of patterned tights, you think of fishnets but in different patterns or in different designs like polka dots, plaids, and stripes.
To make this fun accessory work, is to choose a smaller repeating pattern for the most subtle look. Dress up your legs and look by adding patterned tights with simple dresses or tunics. A basic black knee-length sweater or knit dress works fabulously with patterned tights. Monochromatic or tone-on-tone looks are also easy and flattering, like when wearing black tights with a black dress. Almost any shoe, even open-toed shoes, can complete your playful ensemble.