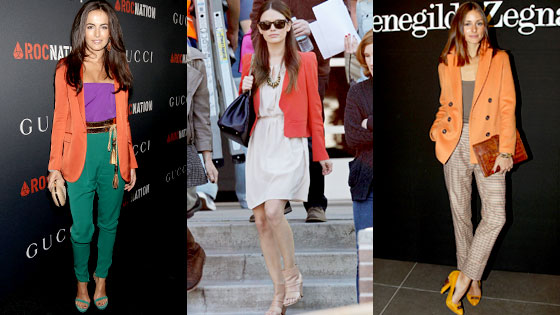 Camilla Belle (Gucci), Rachel Bilson, and Olivia Palermo
Stylistic or Tragic~
Colours from this past winter surrounded citrus shades like lemon, lime, and citrine. So it can be expected that one of those juicy jewel tones would cross over into spring. Bright warm colors such as orange are a definite trend this season. Orange is a vibrant colour. It's a combination of red and yellow so it shares some common attributes with those colours. Orange denotes energy and warmth while at the same time being a bit less intense or aggressive than red because of it being calmed by the cheerfulness of yellow.
Orange has been expanded and inspired upcoming colour schemes seen on the runway. If you want to get noticed without screaming for attention, than orange is the way to go. The softer oranges such as peach are friendlier and more soothing. One of the top orange shades seeing more and more on the scene and in stores is coral. When keeping the traditional looks of oranges with the appearance of nature, mimick the sunset with shades of cream, black, and brown. Make it transitional between seasons. Darker shades of orange are often times synonymous with autumn while brighter oranges encompass summer.
While orange and black are considered Halloween colours, orange can really pop when contrasted with a medium blue. Bold reds and vibrant yellows along with orange can be a fiery hot combo, or in tamer shades can create more of a fresh and fruity feel. Add a touch a green for a tropical look. Use caution when mixing orange with pink to prevent a 60s psychedelic look. Dip in some deep purple with some mellow aspects of white for an not-so-ordinary, fashion forward colour palette without it being overpowering.