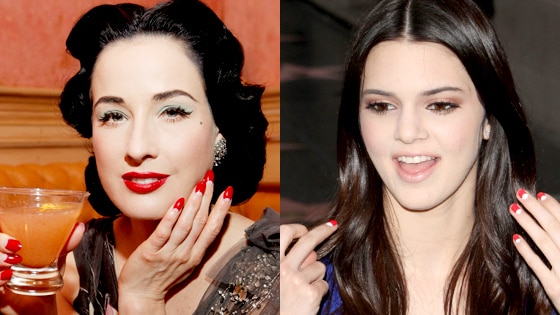 Dita Von Teese and Kendall Jenner
Haute or Shot?
This pop-retro mani appeared first on MGM starlets in the 1920s and became a reminescent look in Hollywood in the 1940s. Today, this funky fun nail trend is reappearing yet again as a mani style fave for beauty babes of all ages and is becoming increasingly popular at local nail salons.
Take your nails Over the Moon!
This crisp classic look will get your nails noticed immediately. This look was used on models during fashion week and is seen on celebrities such as , Rihanna, Ciara, Mya and so many more; but always modeled on the infamous, pin-up beauty, Dita Von Teese.
This manicure features half-moon shapes at the tips of the nails with shades of dark polish and natural tones. The bottom part usually remains clear and clean looking while the top part of the nail is painted. The half moon style uses darker shades of nail polishes, unlike the white tips of the French manicure and off-white tips of the American manicure.
Get all Lacquered Up!
Pampered fashionistas like to wear this type of manicure when they want to sport a touch of dark colour without covering the entire nail. Keep it clean and classic with a red tip and white crescent or ease into the nail trend with softer summer colours like coral, peach, and soft light pink. If you really wanna make a statement go retro crazy with purple and orange, green and yellow, or retro black and white to point yourself in the direction of individual fashion. The new twist on the nail trend is most flattering on longer, rounded nails.
Give your nails a Split Personality!