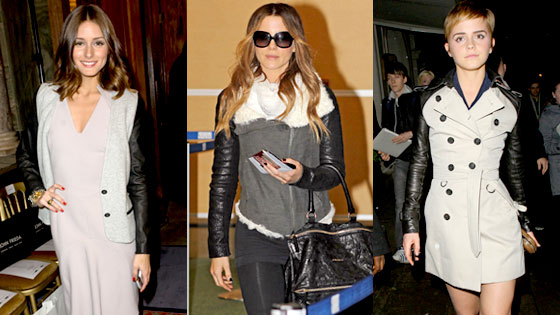 Olivia Palermo (Alexander Wang), Kate Beckinsale (Helmet Lang), and Emma Watson (Burberry Prorsum)
Fave or Fail~
Upgrade your outerwear with a bit of toughness by wearing jackets with leather sleeves. Whether it's adding to a classic blazer like Olivia, sport a new take on the trend in a moto-jacket like Kate, or twist in a tailored taste as seen on Emma. The leather-sleeved jacket can make a fashion statement for the fashion forward.
More on the Leather Intake . . .
Leather is often measured as a fashion item that has a reputation for comfort, style and long-lasting quality. What makes leather one the best of all other clothing materials is ability to get better with age. Leather doesn't get worn out. Leather has personality, uniqueness and accentuates the character of the wearer.
Leather is versatile across all ages, genders and styles. From a child to a motorcyclist, the leather jacket adds flavor and protection while taking on a stylish look. What also makes leather so versatile as stated before is that it can cross all styles: leather blazers, coats, bombers, biker jackets, motorcycle jackets all for both men and women. Leather is also seen made into more than just jackets: skirts, jeans, pants, trousers, suits and so on.
Now about the new take on the leather trend. Jackets with leather sleeves has made leather even more of a fashion icon and would make you want to show off their superstar appeal. Other than reminding you or your high school boyfriend's varsity jersey, leather is a more superior choice than other materials. They have an exclusive, sophisticated and fashionable look that's stylish in appearance making this type of jacket very appealing to the eye.
Stray away from wearing more leather when wearing this type of jacket, less is more. Overall, their simplicity is one of the great reasons why fashionistas favor them so much. When going for the biker chic, others will look at you and know that when you have "armed" yourself with style that you have been stylishly updated!