For those in fear of the fashion faux-pas question, "Do stripes make me look fat?" No worries! This trend, if worn wisely, can be not only a fashion statement but may end up being your fashion favorite. Thin stripes especially in long-sleeved tops can elongate the body giving you a longer torso creating a slimmer physique. For chunky stripes especially worn in basic colors like black and white, break it up with a pop of colour. For the Memorial holiday, go patriotic with navy blues and white and pop your outfit with colors of red and gold. Keep the season trend going by pairing your striped top with a pair of white wide leg pants and linen wedges. If you want a more sophisiticated take on the trend. Go to your family evening barbeque with a blazer worn over or your striped top or accent it with neutral colors of camel and tan for a more classic look instead of just wearing them with black.
While in the park enjoying your holiday picnic with family and friends, pop some more color to your striped style while still showing your patriotic spirit and protoecting your eyes by shading them with a pair of sunnies with a crimson frame. Salute your Style and be Red, White, and Blue-tiful!
Celebs Seen on the Scene Striping a Pose!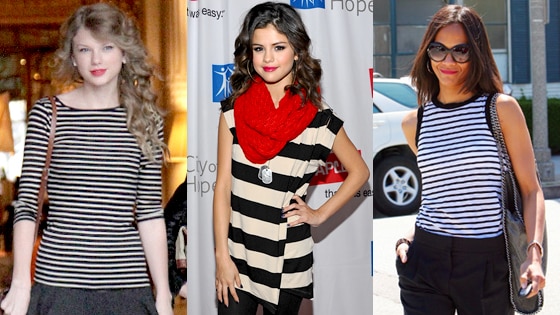 Taylor Swift, Selena Gomez, and Zoe Saldana
Celebs Seen on the Scene with Framed in Red!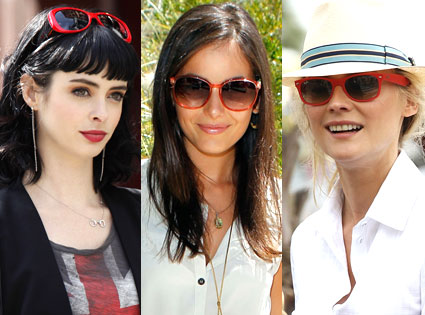 Krysten Ritter, Camilla Belle, and Diane Kruger