The jumpsuit has become one of the biggest trends of the month! And why not? The jumpsuit is perfect when you want to wear something different and sexy that will bring attention in a revealing yet fashionable way. So I am going to dedicate and educate you all on the many different styles and how-to-wears of the jumpsuit.
Popular in the '70s and '80s, this one-piece fashion item is coming back in time for you to invest in the modern version of it. The jumpsuit is the right choice for effortless fashion that stands out, the right way.
Depending on your mood and how much you want to bare, there are several styles of jumpsuits to choose from. . .
There's the Tube Tope style jumpsuit to share some skin. A halter jumpsuit can go from classy to casual depending on what you wear with it. If you choose casual go for terry cloth or a stretch knit fabric. If you want to be sexy and seductive, go for the backless halter jumupsuit. The tank top jumpsuit can easily be tailored for a clean and classic look. Lastly, there's nothing more extreme than the plunging neckline jumpsuit. This deep V will surely make an impression but for all the right reasons.
When accessorizing your jumpsuit, finish it with a pair of sandals and funky earrings for a stylish day look. To make your jumpsuit more dressier, choose a softer fabric in a darker or bold shade like black or red. Wear with high-heel sandals, a cute clutch and a shawl for those chilly evenings. The "it" accessory for the jumpsuit is the belt. Wrap yourself in fashion and break up your jumpsuit with a belt like the celebrities below have done.
Need more reasons to see why the jumpsuit has been stated, Top Trend of the Month, visit Versa-Style and see why it's the fashion!
Celebs Seen on the Scene Jumping into Style!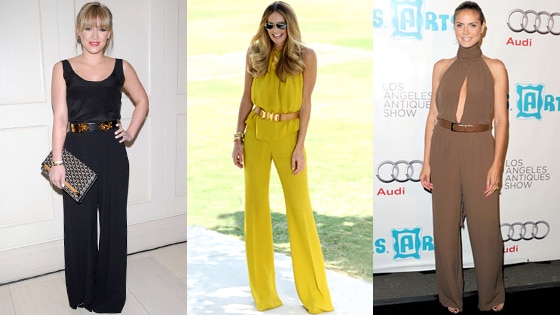 Hilary Duff (Alice + Olivia), Elle MacPherson (Etro), and Heidi Klum (Michael Kors)