Follow my blog with Bloglovin
Fashion and technology have come together and slashed their way into becoming the next fashion trend! As you can see ladies, laser technology is now used for more than just hair removal. It now gives us a new spin to the term "peek-a-boo"! This type of intricate detailing resembling lace gives a more delicate while at the same time edgy look that is red carpet worthy and runway wow. Laser-cut detailing is also seen in many tops from casual to classy that are sold in a wide variety of retail stores so all fashionistas can embrace this new evolution of fabric detailing. You know for us stylists, like these dresses, it's all in the details! Have fun with your accessories and shoes when wearing this in the form of a dress or top. With this look, you should not be afraid to experiment with your jewelry. However, I recommend leaving out the necklace or of course going completely bare so it doesn't take away from these patented patterns that deserves your fashion fans' fullest attention!
Celebs Seen on the Scene Made the Cut in These Dresses!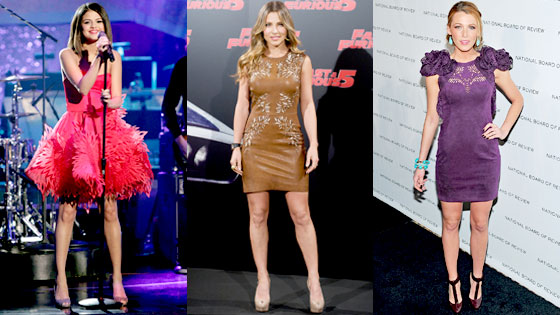 Selena Gomez (Irina Shabayeva) , Blake Lively (Marchesa) and Elsa Pataky (Catherine Deane)