It's true. Everything that shimmers isn't gold. . . it can be silver, pewter or rose. Drench in this upcoming summer night's fashion trend. Blake Lively is absolutely glimmer-ous in her L'Agence metallic blazer. Like our celebs, ditch the sequins and turn to shine. Satin metallic suting gives just enough sheen to light up the nights and demand attention. Fashionistas use metallic ensembles as a style choice for parties and social soirees. Get much more in your metallics by accentuating it best with your skin-tone. For darker skinned ladies, silver even pewter will be star-struck stunning. Golden hues will glisten against lighter tanned skin-tone shades. Metallic suiting practically suits everyone and basically can create a whole personality of its own. Customize your trend by shopping for it as you would any other blazer or short. Metallic blazers come in various necklines, sleeve-lengths and interior colors. Metallics shorts can come in lengths, textures and fabrics. All in all, in metallic suiting you can bring the summer sun with you from the daytime and heat up those summer nights even more.
The trend has been taking even further by mixing shining materials. Turning those metallic shorts into skirts and topping it off with a chambray button-up. This year we have witnessed numerous trends that conquered the fear of mixing. There are florals and polka-dots (stay tuned), different shades of pastels in one outfit and now fashion has brought together chambray and metallics. The chambray shirts is a warm-weather staple and is a perfect shirt to wear with denim jeans. Keep in mind, that since fashion has introduced to us such standing-out shimmer attire, tone down on jewel accessories and tops when worn under your metallic blazer or chambray shirt. Don't let the shine overpower you and please do not follow Brooklyn Decker's fashion faux-pas a.k.a. metallic mess!
Celebs Seen on the Scene Melting in Metallics!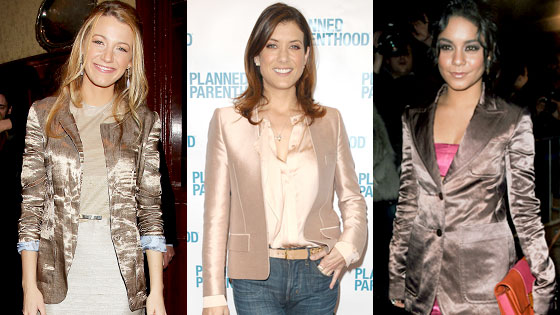 Blake Lively (L'Agence), Kate Walsh (Stella McCartney), and Vanessa Hudgens (Marc Jacobs)
Celebs Seen on the Scene with Even More Sheen!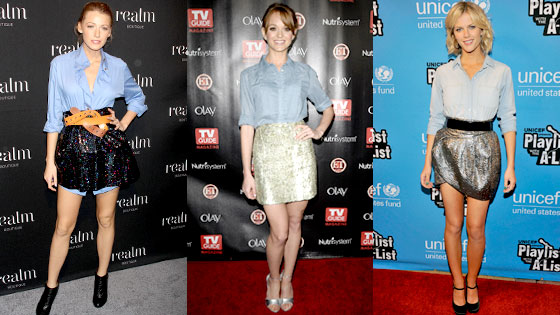 Brooklyn Decker
(Madwell shirt/Isabel Marant skirt),
Blake Lively
(Vivienne Westwood) and
Jayma Mays
(Gap shirt/Nanette Lepore)