Throughout the spring season and going into summer we have seen a whole range of colors listed at the top of leading trends. This trend is going back to basic and bringing with it everything but ordinary and is allowing you to enjoy it early in the next season. Purity doesn't seem to stop inspiring fashion designers from mesmerizing their audience with the trend's blinding and heart-warming impressions of bright whites.
This all-white, head-to-toe trend is actually called "Minimal White." The Minimal White trend was seen all over the runways of spectacular designer's spring and summer 2011 collections and of course on the streets of L.A. and New York by our favorite celebrities.
Celebs Seen on the Scene Ignite in Bright White!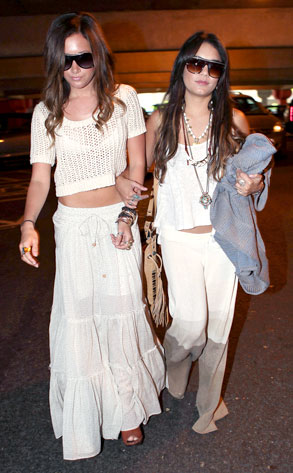 Mila Kunis (Boca Negro), Jennifer Lopez (Hakaan dress/Stella McCartney coat), Cameron Diaz (Theykens' Theory jacket/Vince jeans), Ashley Tisdale (Free People) and Vanessa Hudgens (Blue Life shirt/Goddis pants)



When one thinks of an all white outfit for summer, visions of floral prints with a white eyelet skirt comes to mind. Or maybe you've had a nautical inspiration with a pair wide leg, sailor button, white linen pants topped off with a navy blazer and gold accessories. But this time, there is no color insight, with the exception of Cameron Diaz's edgy black jacket. My favorite looks have to be the classic and sophisticated styles shown in a pants suit and dress with matching length coat seen on Mila Kunis and Jennifer Lopez. But for those hot summer days you can take Ashley Tisdale and Vanessa Hudgens' bohemian-chic laid-back look.
Here are some tips for the everyday fashionista who want to shine in Minimal White:
Look for fabrics that are thick enough that you can't see the pocket or the hem or even your personal intimates worn underneath (make sure you wear skin-tone underwear), this faux pas is considered extremely tacky. To keep from looking like a medical lab technician, realize that there are many different shades of white that can go together. To achieve the best look of your all white outfit, look at your garments in the sunlight.
Of course, I have a fear of getting my whites dirty, as do many of you I'm sure, but I am going to take a risk and actually purchase a pair of all white bootcut jeans to wear with my bright tops and linen espadrilles this summer. I just need to invest in some really good laundry detergent!