Celebs Seen on the Scene Going On Stripe!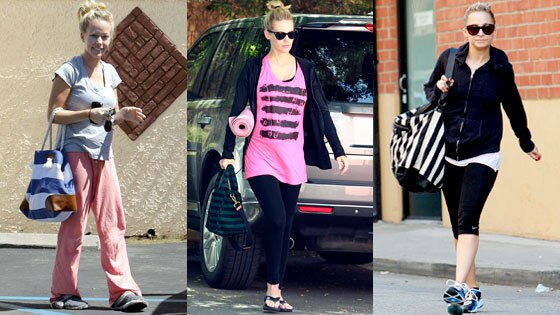 Kendra Wilkinson (H&M), January Jones (Prada), and Nicole Richie (Balenciaga)


Striped bags are another versatile accessory that goes practically anywhere with anything. Kendra's nautical navy and white striped tote from H&M is not only on trend for the summer but excellent for storing books, magazines, sun tan lotion and sunglasses for some reading at the beach. January Jones smaller black and green striped bag makes it an easy grab-and-go purse for running errands or she can turn that Prada into chic for a luncheon with the girlfriends. I love for my bags to be so big that I can fit my entire life in them just like Nicole's carry-all. Nothing says fit and fab like a trendy, striped, oversized bag to put all your gym clothes in.
Black and white vertical stripes on pants allows the eyes to move up and down, giving the illusion of slimmer leaner legs. And these pants being cropped adds a plus to this trend because it gives you the chance to show off your fabulous heels. When completing the outfit, stay away from prints. Keep it basic on top with blouses and shirts within the neutral color family like grays and creams, but don't be afraid to be well-heeled with a pop of color. Red pumps will make a haute statement when paired with black and white striped crops.
As stated before, striped bags can go with practically everything. Take note that I said, "practically". When carrying your striped shoulder bag refrain from wearing a striped shirt. When shopping for your stripped bottoms, keep in mind of the boldness and thickness of the black and white stripes, unless your personal style resembles Beetlejuice!
Celebs Seen on the Scene Strutting Their Stripes
!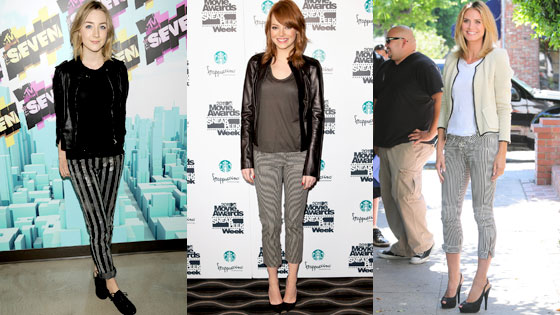 Saoirse Ronan (Balmain), Emma Stone and Heidi Klum (Isabel Marant)