Celebs Seen on the Scene Walking on the Wild Side!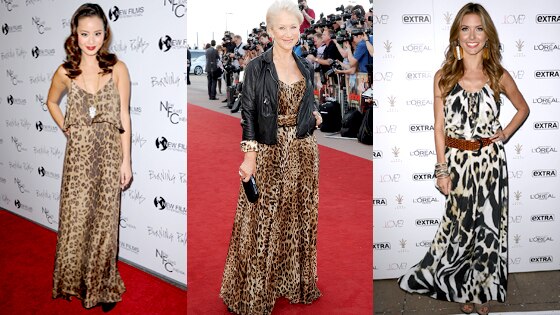 Jamie Chung (Blu Moon), Helen Mirren (Dolce & Gabbana) and Audrina Patridge (Camilla)


The animal print is far from over and is still seen as a must to have in your closet. Call it going back to my roots, but I have a soft spot these exotic, eye-catching prints. When poping on these prints for the summer, feel free to long as the maxi or short as the mini. When wearing a maxi dress, add a wide belt around your waist to keep us from losing you within the print, like Ms. Audrina Patridge fashionably has. Chuncky bracelets make a more fierce statement to this vicious look. Gold would accessorize cheetah, leopard even giraffe print really well while silver and hematite would really stand out amongst zebra patterns. But as we all know fashion is far from traditional. Below, celebrities are wearing their animal prints in great pops of colour that are not neutrals but keep in mind the cut and color of the dress, like Reese Witherspoon's bustier, figure-flattering, emerald and brown dress or Rosie Huntington-Whiteley's tricolored sheath dress in safari hues. It's stylish and safe to add yellows, reds, turquoise and purples to add more flavor but tone down the accessories like Reese did with her nude Jimmie Choo peep-toe pumps. I particularly like how Helen Mirren and Lily Collins uped-the-anty on their neutral adds ons: a rocker jacket over a leopard maxi for Helen and a chic-punk style to a black peep-toe Christian Louboutin booties with gold button details for Lily. Since Lily's dress was cut in a more conservative style, she edged it up more with Alexis Bittar gold jewelry and a gold Judith Leiber roll-clutch.
Celebs Seen on the Scene Ferocious and Fabulous
at the MTV Movie Awards!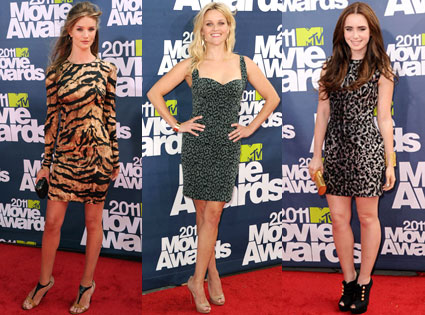 Rosie Huntington-Whiteley (Dolce & Gabbana), Reese Witherspoon (Zac Posen) and Lily Collins (Dolce & Gabbana)
Want to refrain from being overwhelmed with animal inspiration? See and Vote on this Style Spotlighted Edition of Fashion Says~ Head-to-Toe Animal Print!