Celebs Seen on the Scene in Fashion Fluorescence!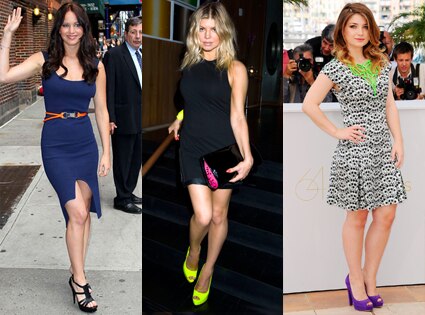 Jennifer Lawrence (Altuzarra), Fergie (Ruthie Davis bag) and Eve Hewson (Miu Miu)


I was so excited when I saw this neon trend come back from the 80s into "fluorescence." Yes, I know that with these so-bright of colours, it can make one fear of becoming a walking highlighter, but don't miss your mark to pop your neutral outfits with an outrageously bright accessory. This bold and beautiful trend has gone from psychedelic to outta-sight! Take the above celebrities for instance. Cinch your classic sheath with a little pizazz by adding a fluorescent neon belt or turn your LBD from ordinary to extraordinary with splashes of neon colour. Eve's neon yoke gives the illusion of an ultra-bright necklace placed against her black and white dress. But the basic rule, is to not over do it with the accessories by wearing more than two bold and bright hues.
Again neon accessories have been a major fashion trend, highlighted by our favorite fashion icons. Below are all three Kardashian heart-throbs sporting the same glowing bag by Hermès. Of course as any fashionista would know and as these three have shown, when carrying such a bright handbag to back it with a neutral outfit. Kim's tan oversized dolman top matched with the summer staple, white denim jeans or Khloe's denim shorts are the right way to bring the right attention to their ultra-bright purse. Kourtney shows that this neon handbag can be brought from the summer into fall with a pair of black tights and boots proving that this summer trend can be flashed on all year round. A true stylist knows to add a pop of colour to accentuate any basic palette. Now, highlight your style to its brightest with neon accessories! Shine on!
Celebs Seen on the Scene Popping Their Colour
!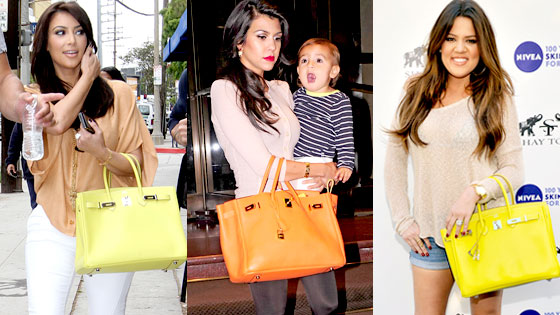 Kim Kardashian, Kourtney Kardashian and Khloe Kardashian-Odom (all carrying Hermès)