Last year, we were lovin' the leopard which has been making a comeback this year. But another animal-inspired print has been stalking the scene and slithering its way to the top of the continuing popular trends, and are still footwear favorites of many snake-inspired starlets. A snakeskin accessory is considered sleek and sexy that can make any party attire more exotic. Any classic ensemble that is already sleek, sexy and versatile can have more exotic appeal with a serpent's charm. There is no question that the snakeskin heel is the go-to animal-printed shoe of the season. I guess the ultimate question is, how can you possibly turn this look into a fash faux pas? I honestly feel that there is no way this look can be made disastrous, unless you wanna go head to toe snake-print (

see "Fashion Says . . ."

) and all of you practically know the basics of dressing up a simple dress or jumper with a patterned accessory. You would want your ensemble solid in color so it's not competing with the print on the bottom. The snakeskin print is made up of basic neutrals so it can practically be worn with any colored outfit outside of the traditional black and white; Katie Cassidy wore it best in her summer haute-hued body-con! Make it a collective look with a matching clutch or add a small touch of hissing charm by wrapping your finger in a coil-snake ring. Put Your Fash Foot Forward!
Celebs Seen on the Scene Being Quite the Snake Charmers!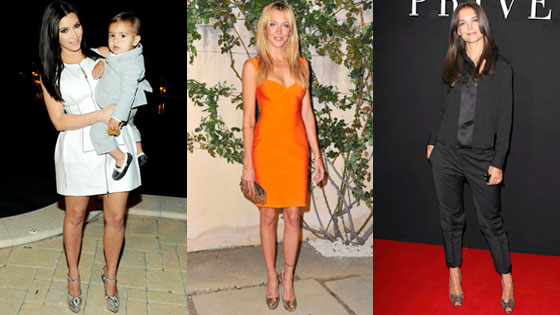 Kim Kardashian (Christian Louboutin), Katie Cassidy (Jimmy Choo) and Katie Holmes