Take your style on a vacation to an Amazonian paradise in tropical prints. Jetsetting to the beach or taking a stroll in the sunlight in an outfit completed with vibrant colors and lush prints is definitely a way to celebrate the summer. To be a little more comfortable with this busy print and loud color is to go for lighter fabrics like chiffon and silk with delicate floral separates on a black or dark blue background. Tops like those can be safely worn with jeans or shorts. Since this trend is inspired by the tropical islands, beach items like totes, straw hats, wooden bangles and sandals are accessories that can compliment this fashion the best. Their natural materials and simplicity in a way tones down the outfit to keep you from looking like a botanical garden especially if you desire to wear a total tropical ensemble in the form of a maxi dress. Wear your paradise best
by matching your top or bottom with one color from your tropical look. Continue this refreshing number with a pair of airy footwear in nude colors like strappy sandals or espadrilles.
Celebs Seen on the Scene Under Tropical Influences!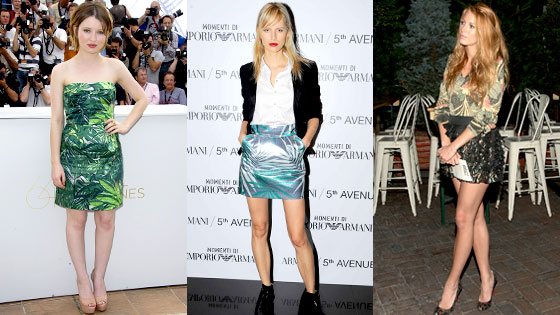 Emily Browning (Louis Vuitton), Karolina Kurkova (Armani) and Blake Lively (Marc by Marc Jacobs)