I can't think of any other way to show off your bikini bod other than by showing off a sliver of skin in a crop top. Making a comeback from the 80s, crop tops are au courant by being paired with a high-waisted bottom only revealing that tiniest part of your tummy, giving you that extra bit of coverage. If you don't want to resemble Britney Spears circa 1999, make note of these midriffs dos and donts.
Ban those boring bras and add some color and style to your lingerie collection. These fun items have been worn by Hollywood wonders like Gwen Stefani and Jennifer Aniston, with a high-waisted maxi-skirt and underneath and unbuttoned blouse, bridging the gap between underwear and outerwear. Seen on our favorite stars including Rihanna and Leighton Meester, the bustier crop top is the sexiest way to display your midriff. To keep it from looking like something from the Frederick's of Hollywood, pair your bustier with an ultra-feminine vibe wide-leg trouser that sits barely an inch below the top leaving just enough imagination while keeping your look classy and appropriate. Caught on celebrities channeling their 80s look like Kelly Kapowski, a comfy loose crop tee when completed with a high-waisted jean short and flats successfully creates a very casual afternoon outfit.
Celebs Seen on the Scene Crop a Little Off the Top!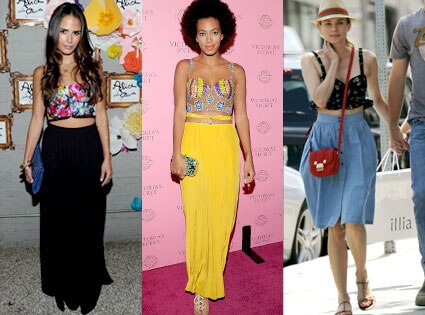 Jordana Brewster, Solange Knowles (Boxing Kitten) and Diane Kruger