Fall may be on the horizon, but floral prints are still in bloom and you gotta love it when your accessories are built right into your wardrobe. Utilize your blouse's neck-tie as a feminine sash, making this top a staple in your closet. This type of blouse is a fancy twist on the classic button-up and offers a fresh alternative to the scarves of early-fall into late winter. Along with floral prints, search for styles in solid colors, tiny polka-dots and other small prints as well. No need for large loud prints when the tie-neck is all the embellishment you would need. While fresh and hot right now, I am sure you can reminesce on this look being worn by your beloved grandmother. However, you can definitely find some fabulous vintage or thrifty tie-neck blouses, but avoid looking matronly by choosing blouses in high quality fabrics and body-skimming, tucked-in styles. The key here is to wear it in a way that shows off your curves. You can go classic or blushing but the best way to work this trend is to pair a tie-neck blouse with a trendy high-waisted, wide-legged jean or trouser and with a pair of peep-toe platform pumps.
Here are some ways you can transform your tie-neck top into other très chic looks:
~For a menswear-inspired look, wear a cotton tie-neck top with a skinny jean paired with another one of the season's must-have items: the long boyfriend blazer.
~Go for sheer by tucking a transparent tie-neck top into a high-rise, wide-leg jean or pant and finish it off with a slim-fitting cropped blazer.
~Become a stylish naughty secretary by wearing a silk charmeuse tie-neck top tucked into a silhouette-enhancing pencil skirt atop a pair of glossy patent leather shoes.
~Put on a jumper dress over your favoirte tie-neck top with patterned stockings and high-heeled leather boots for a grade-school inspired ensemble that's all grown up.
For more advice on how to wear this fashion or any other trending fashions, email me, The Other Coco Chanel at yoursignaturestyle@ymail.com. Sign your Style with your own Signature.
Celebs Seen on the Scene Going Knots Over Tie-Neck Tops!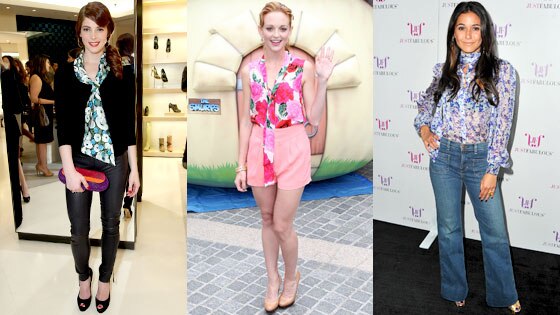 Ashley Greene (Louis Vuitton), Jayma Mays (Rebecca Minkoff) and Emmanuelle Chriqui