4: Cult-Worthy Tresses, Brows & Mani Styles
You've seen the fashion trends worn by our beloved celebrities at New York Fashion Week. You've caught a glimpse of a plethora of designer creations showcased in their fashion shows. Now let's take a look, recognize and applaud what the creative hair-stylists and makeup artists have come up with and displayed on the models of the runway.
A trend noticed on the catwalks that were so hair-raising, you'll "dye" to try! Orange highlights were brushed into the models hair at Peter Som and bright pink and blue locks had our hair standing on end at Thakoon's fashion show. Lets not forget that Narciso Rodriquez gave his models orange and icy blue hairstyles.
Wet hair was another trend seen on the runways. While many of us find it insane and brave to rock the wet hair look in our everyday routine, Alexander Wang, Prabal Gurung and Ohne Titel did not abandon the hair gel showing us that they were all about the greased up hairstyle.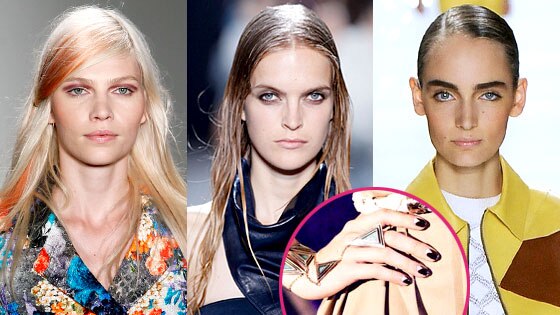 Almost all of us refuse to go a single day with our eyebrows going Wolfgang on us. A beauty trend that has definitely raised one of mine, was the strong eyebrows painted on the fashion models at Derek Lam and Altuzarra. Don't be heavy-handed with the eyebrow pencil and going so severe like Bert and Ernie. Remember that the brows frame your face and this fall you should try and go with a bold brow. Channel your old-school, Hollywood, golden-glamour look that the iconic Elizabeth Taylor beautifully graced her face with. The bold eyebrow exudes confidence and is even a top beauty look at weddings à la newlywed, Kim Kardashian.
Now lastly, a trend that if you haven't already, you should totally get your hands on, Ombrè Nails. Months before fashion week, it was a raving fave by the lovely Lauren Conrad. This form of manicure ran rampant on the runways of Pamela Love, Jen Kao and Alice + Olivia. D.I.Y. for a fab fingered look without busting out the credit card and leaving a tip at the salon by picking up one of

Sally Hansen's Nail Polish Pens

.