Like the birds in the sky, hemlines in skirts and dresses are heading south. Celebrities at New York Fashion Week are ahead of the trend in what has been spotlighted by numerous designers on the runway. Just because cooler seasons are coming, doesn't mean that you cannot be ladylike in skirts and dresses with longer lengths. The '60s dress was a hot trend during fashion week and are expected to make a grand debut come spring. Paying homage to the styles of the late '50s and early '60s, fuller skirts with longer hemlines are no longer just for the Susie Homemaker. Fashion has gone through great lengths to expand ladylike looks into other styles from granny to sheaths. Modernize these styles with a boyfriend blazer with a turned up collar. Search for these A-line skirts with fabrics in leather or tulle and keep the trend going into spring with a high-waisted version and a crop top to slightly expose a bare midriff, see WTF? Crop Tops.
Accessorize fuller dresses and skirts with cat-eye sunglasses, a string of pearls, kitten heels to elongate the calves, leather clutches and waist-cinching belts. If you want to create an attire that is a little more vintage, throw on a pair of white lace gloves, a pastel headband and give your lips a pink pout to achieve a classical belle look. Go bold red in the lips if you want to be a bombshell. These below-the-knee bottoms will give your fall style more of a refined elegance. As stated in WTF? White Lace,
tuck in your blouse or top and if you chose to, add a belt or crop jacket to accentuate the smallest part of your waist while hiding those problem areas. Here are more styling ideas by mystyle's Quick Switch, Fashion Expert, Sydne Summer on Ladylike Skirts: Their Take on the Trend.
Celebs Seen on the Scene Being Real Ladies at NYFW!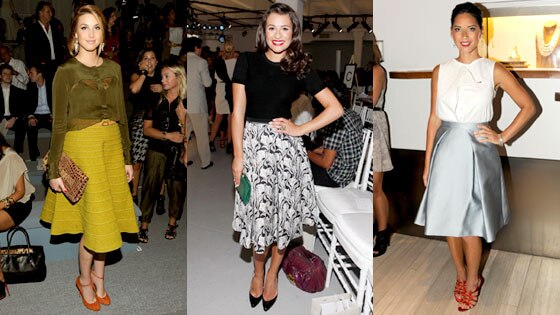 Whitney Port (Luca Luca), Lea Michele (Jason Wu) and Olivia Munn