Celebs Seen on the Scene Laced to Thrill!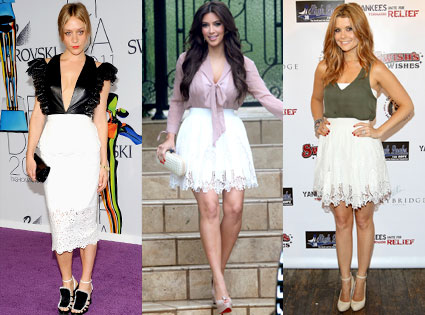 Chloë
Sevigny (

Chloë Sevigny for Opening Ceremony

), Kim Kardashian(Intermix) and Joanna Garcia Swisher (Intermix)
We all know that in today's fashion it is all about breaking the rules. And why should celebrities have all the fun. I'm calling all bold fashionistas to forget what your mother said and to go ahead and wear white after Labor Day! Then again, this myth as been thrown away years ago, so if you haven't got on board you're probably the only one. On today's WTF? be hard-headed and put on your lace dress or lace skirt! This white rebellious trend has been popular for late-Autumn 2011 but also a trend that will possibly carry into winter. It is true that lace ensembles are really nothing new, but it is an extension of the the sheer trend that has already made a name for itself as an independent trend. Here are some ways you can set yourself apart from the crowd and bring this traditional myth into the new age of fashion.
There is a good reason why a lacy skirt is a staple in any girl's closet. This delicate bottom can go with almost any color on top and can be dressed up or down. You can go pretty pink with a bow like Kim, crazy cut-out edgy like Chloe or bring in perfect balance as Joanna did with her solid silk tank in your favorite color. Make sure that you tuck in your top to accentuate the smallest part of your waist.
The achieve ultimate balance of lace is to be romantic, not girly; sensual; not seductive. Make the lace the garment and show it in a dress beyond the hot months. Transition this piece into fall by pairing it with dark hues and thicker fabrics like blazers, knit tops and knee-high boots. If you decide to wear heels instead of boots, keep your legs warm and still on-trend with opaque tights.
Celebs Seen on the Scene in L(acy)W(hite)D(resses)
!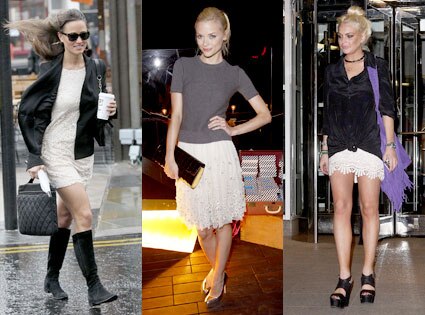 Pippa Middleton, Jaime King and Lindsay Lohan
For more bad influences on breaking the rules, here are some all-head-to-toe-white ideas!