Yeah the weather is cooling down, but that doesn't mean that you can't go out and have fun or leave yourself vulnerable to a cold while out for a night on the town. Take your sweater out of your office wardrobe and incorporate it into your party-wear with these few easy styling tips:
Tip #1: Pull this trend off with knits that are fitted and cropped.
Tip #2: Pick your sweater in a solid color so it acts more like a top.
Tip #3: Pair your layer with cute shorts or a flirty skirt and hot heels.
Tip #4: Place underneath your sweater a tank or tee with sequins and sparkles.
Tip #5: Play up the sweater in pops of color to really show you're the life of the party.
Jordin and Fergie do it well while Whitney may look quaint and cozy she actually looks boxy and weighed down with a multi-colored, patterned sweater, wide-leg pants and chunky platforms on the red carpet. It's all about proportions people!
Celebs Seen on the Scene Jazz Up the Sweater Top
!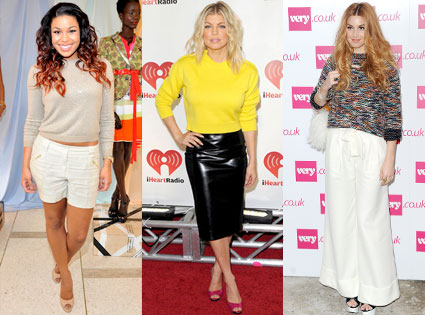 Jordin Sparks, Fergie and Whitney Port (Mike Gonzalez)