Today, I'm spotlighting one of my favorite styles that is completely Coco Chanel. A black and white ensemble is the ideal look for any occasion, social or professional. Although wearing all black is certainly sophisticated and slimming, it can appear funeral and down-right boring at times. While all white is definitely reserved for brides, worn in a tailored blazer can truly brighten up the dark outfit.
Combine black with white to make an attention-getting fashion statement that truly is the classiest and cleanest look of the season. For serious and yet sophisticated looks to wear to work, an outfit completed with a black high-waist pencil skirt, a white ruffled blouse and patent leather black pumps will do the job. Exchange that white blouse for a simple black fitted top worn underneath a white blazer and you have an instant office look that's completely on-trend. Now even though black and white is the safest and easiest attire to wear, make sure you switch it up a bit like wearing a satin black button-up blouse with black wide-leg pants and a white cropped jacket, lest you look like a server at a restaurant.
Turn the drama down a notch by simply putting on a pair of black leggings with a black tunic finished with a wide white belt and matching wrist-watch. Compliment your looks with a little embellishment or mix in some textures like ruffles, lace, leather, ruching or beaded embroidery to keep the look interesting and exciting. Black and white combo styles don't have to be completely color-blocked.
When wanting to light up the night in an all-white ensemble which many of you maybe spotlighting at the upcoming holiday roof-top parties, proportion is key. Wear white heels when wearing white pants to elongate the legs but break it up with a thin black belt around your waist to add a little definition and just the right amount of contrast.
Accent your ensemble with layers of prints and designs for a drastically bold approach that can really grab attention to your silhouette.
You know me. I'm all about adding just a hint of color to really pull a black and white look together effortlessly. A brightly colored necklace to embellish the neckline or a vibrant colored handbag will easily give instant pop. Red or the latest, most popular hue, blue in stilettos with white shorts, a blazer and a black sequin tank gives a haute taste of flavor to this trend.
From a meeting with a client to a dinner date with your beau, you better believe that a black and white suit will surely suit any occasion.
Celebs Seen on the Scene in Impeccably Put-Together B&W Pieces
!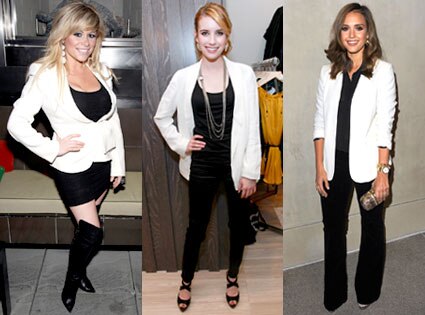 Alexa Prisco, Emma Roberts and Jessica Alba