Wrap your collar bone with a statement choker whose inspiration is traced all the way back to ancient Egypt. With it's sleek design, this quite modern choker necklace is meant to be worn comfortably tight against the throat. Whether worn with a more structured design or nontraditional with Egyptian inspired gems, these necklaces can enhance many kinds of outfits and look sensational with all hair lengths, long or short, down the back or up off the shoulders. While this type of necklace can hide some flaws, it can enhance others. A wide choker can make the neck appear longer but too wide of a choker, your neck can appear shorter. Egyptian chokers can be worn particularly well with off-the-shoulder styles or tops with boat necklines. They are also stunning with v-neck cocktails dresses and show off best when accompanied by matching earrings of the same metallic color or complimentary gem stones. As seen worn on the red carpet, you too can embrace your love for the legendary and desirable Cleopatra to your most glamorous affair.
Celebs Seen on the Scene Channeling Cleo
!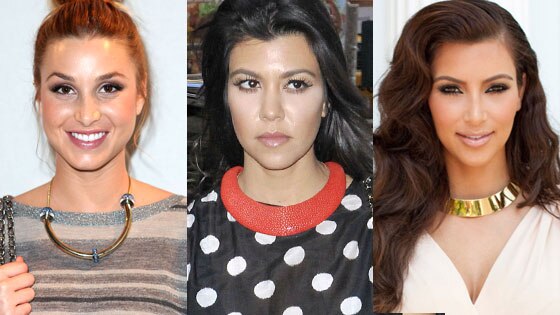 Whitney Port, Kourtney Kardashian and Kim Kardashian
Have a Happy Turkey Day full of Blessings and Dressings!