Regardless if you want to show a hint of skin or give an eye-full of cleavage, playing peek-a-boo with a top or dress has got you covered . . . well of sorts. Fashion designers are always on the lookout for inspiration to create something new and that can vary from the smallest change in lines and drapes to cuts and alterations that offer stunning looks. Keyhole fashions has been a popular trend that has lasted for decades tracing its popularity back to the 1940s, only evolving as the years go by. Keyhole necklines with a je ne sais quoi appeal have also a comfortable, yet stylish and feminine feel to them without being vulgar. While these keyholes can be seductive, they can also be intriguing ranging from casual day wear to party evening wear. Its versatility can be a simple slit in the neck in the front of a blouse or a daring wide opening within the back of a dress secured at the top with a hook and eye or loop and button. For you do-it-yourself fashionistas, this circle or oval shaped cut-out is fairly easy to make or convert.
Celebs Seen on the Scene Playing Peek-A-Boo
!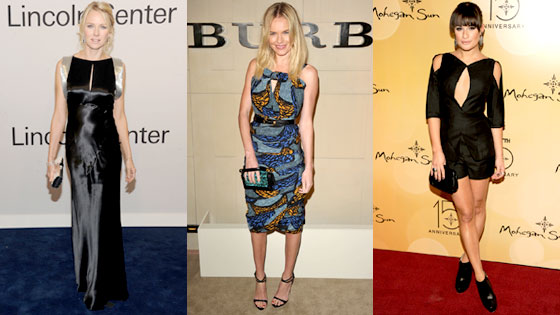 Naomi Watts (Ralph Lauren), Kate Bosworth (Burberry Prorsum) and Lea Michele (Luca Luca)
If you are an emerging talent within the fashion and lifestyle industry with works inspired by the Elements: Earth, Air, Fire, Water, email chanel@bougiemagazine.info for a possible magazine interview and feature opportunity!