This trend is a complete love or hate, hit or miss. I'm not only here to tell you what's new and cool because many trends like red and pink combos have been seen before, but it is my passion to bring you what's hot and now. Lust or loathe is your prerogative and I love reading them in your comments below. It's always open mike on the Style~ Spotlighted. I'm just telling you what's being seen currently on the runways and on the streets of our and for our fashion forward.
We've seen it before and it's here again but this time this fashion color combo trend has spread!
Red and pink shades mixed together is a rule not just meant for Valentine's day anymore; and it's not meant strictly for the girliest of girls to sport on their lunch boxes, sneakers backpacks and barrettes. Fashion is about breaking rules and trumping misconceptions; here we see crimson and pink shades brought from a pre-teen girl's bedroom to a sophisticated outfit that is chic and very ladylike.
Now like mentioned before, you can either love it or hate it, but for those fashionistas that do appreciate a challenge of making these colors work together within one ensemble, here are some styling tips for you to take note on.
One styling tip into making this ultra-femme, daring color combo work is to find the right shade of pink. Since pink is hard to pull off with red-- deep, rich pinks will go well together with that fire engine color.
Another tip for styling a red and pink combination within an outfit is to counteract the girly nature of the two colors with details that can make the look more elegant and mature. Details such as buckles on a handbag or a double row of buttons on a blazer or skirt.
Accessorize such hot and warm colors with neutral tones that can be expanded into your purse, belt and shoes. Balance a vibrant backdrop with nude, camel, and chocolate shades.
Celebs Seen on the Scene Welcome Valentine's Day a Little Early
!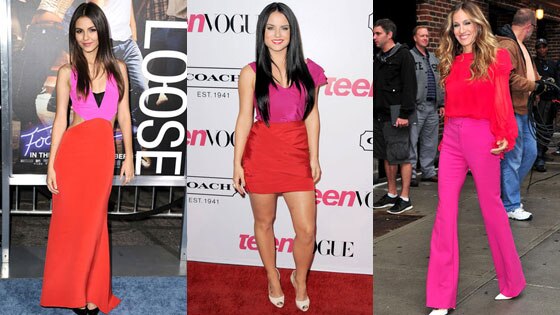 Victoria Justice (Naven), JoJo (Gabriela Candena) and Sarah Jessica Parker (Prabal Gurung)
Thank you and Stay FABulous!!!