As many of you may already be aware of, GFC will be disabled soon- so if you haven't already, please follow Style~ Spotlighted on Bloglovin'. And as always, I will follow you there as well. Love you all, see you soon and until another style has been spotlighted . . . Stay FABulous!
Christmas is coming early this year and that is because we are seeing mistletoe green as the color of trench coats. Whether it's tinsel turquoise or garland emerald, this outstanding cool hue will surely stand out in a sea of black, white and beige this holiday. Sometimes wearing such a bold color as outerwear can limit your clothing choices and force you to dress around your coat. There is no need to go head to toe green or sacrifice other color palettes to only black. A forest pine green, similar to the one Fergie is wearing, would be the best option as far as extending your styling capabilities. This shade will go perfectly with chic cold weather separates like sweaters and trousers in burgundy, browns, navy and even mustard yellow. Blacks, whites, creams and nudes of course will look smashing and so would red but we all know why there isn't a need to wear red with this particular color in your trench coat.
Celebs Seen on the Scene Green in Trench Coat Envy
!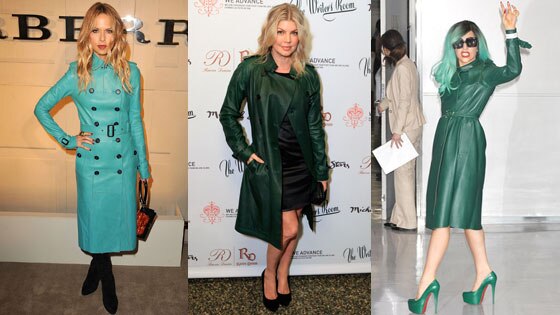 Rachel Zoe (Burberry Prorsum), Fergie(Gerard Darel) and Lady Gaga (Valentino)