Look nice in something naughty like a bustier dress with a sheer overlay. Both sophisticated and sexy, a sheer bustier dress is perfect for a special event or for a date night. Now because of the sheer fabric addition to this type of dress, it makes this ensemble a little more wearable with it's conservative style while still giving that bombshell element.
Gonna keep this post short and sweet because I do not want to keep you here on this site when you should be OFF of your computer and enjoying your holiday with your family and friends!
Celebs Seen on the Scene Being Nice in Something Naughty
!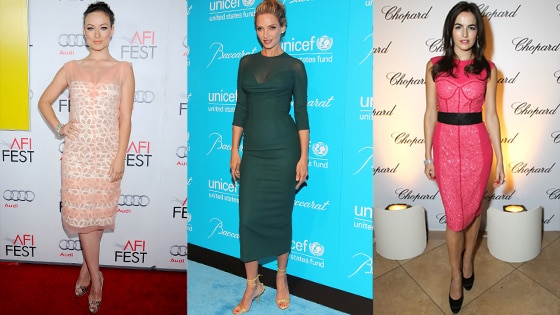 Olivia Wilde (Louis Vuitton), Uma Thurman (Atlier Versace) and Camilla Belle (Monique Lhuillier)
To You and Yours Merry Christmas, Felìz Navidad, Happy Hanukkah, Happy Kwanzaa
and so on . . .
HAPPY HOLIDAYS TO YOU ALL!!!