The boyfriend crop jeans have been winterized as the hottest jeans to be worn for the season. Made to fit a little looser, they are going to surpass this years previous fashion trends of standard cuts and fits of denim jeans from the skinnies to the flares. As a much cuter version of what the boys wear, the boyfriend crop jean have made an iconic approach for the trendy girl. With the various styles and washes, they are made to look exactly like what they're named to be- designed to look like you are wearing your significant other's jeans.
You will find that boyfriend crop jeans are to remind you of a boy who likes to go outside, play rough and get dirty. Most of them are distressed looking, torn with holes, have patches and heavy grinding for a more worn look that is actually quite on-trend.
With the boyfriend crop jeans, the fit is important. The cut is tight around the rear and relaxed or baggy throughout the thighs and legs with the openings cuffed or rolled at the bottom. Unlike the skinny jeans, the boyfriend crop jean is able to fit a wider range of body types. What makes the boyfriend such a hyped up style of denim is because of its effortless wear. Its casual look can be achieved simply by adding heels, sandals, boots or weekend-worthy sneakers.
These types of jeans are quite fun to put on but it must be remembered that even though they are inspired by the boys, they always need a woman's touch. You want to make it look like you borrowed them from your boyfriend, not raided his entire closet. Add at least one feminine piece to keep it comfortably chic instead of sloppy. Dress these jeans up with a cardigan draped over a sequined tank and wedges or kick back and relax in fitted layers like a cami underneath a graphic tee and flats.
Celebs Seen on the Scene Know Their Boyfriends!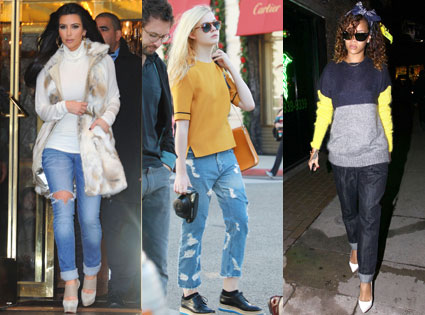 Kim Kardashian (JET), Elle Fanning (Acne) and Rihanna