HAPPY NEW YEARS FABUNISTAS!!!
Welcome to twenty-twelve and all the fabulous fashions that it brings, starting with the lace dress in scene-brightening shades! Lace dresses are so 2010 but after the nude tones toughened up with leather jackets and teeny minis for date night, these edgy yet feminine dresses have been reincarnated as the perfect party or dinner dress. Make it sophisticated without looking too old by wearing them in fitted forms with cap to quarter-length sleeves and knee-high lengths. Keep it fresh without going too young by completing your lacy look with black or nude pumps and accessories. The brightly colored lace dress I find to be a wedding wow-factor.
To make this blog a tad bit more interesting, I wanna get my readers a little more involved by having them voice their opinions of random trends that are making their debuts on the fashion scene. Every once-in-awhile, after the WTF? posting will be a "Fashion Says. . ." insert. Simply scroll down, check out the trend and vote if that particular trend should shine in the spotlight or glow dim in the shadows. Enjoy and Stay FABulous!!!
Celebs Seen on the Scene Unleashed in Lace
!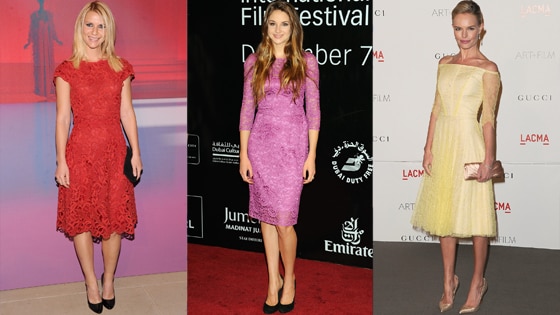 Claire Danes (Valentino), Shailene Wodley (Dolce & Gabbana) and Kate Bosworth (Erdem)
Fashion Says . . .
. . . Liberty Roll Hairstyles