Continuing on from yesterday's trend post, sparkly statement accessories have traveled from the neckline to the midsection with the use of an embellished belt. Accentuating that waistline while bedazzling that basic LBorWD is literally a cinch to accomplish when placing on a blingy belt. There isn't a need to spend more money on a sequined frock when you may have already hanging in your closet a simple dress in a solid shade. All you have to do is invest a little income in this overstated piece. Save even more money by simply pinning a flamboyant and vibrant brooch onto your ordinary belt, maybe the one you used to embellish your collar! See below in A Style Accessorized, to view where you can shop for a bold embellished belt so that you can marvel the masses in no time!
Celebs Seen on the Scene Marvel Around the Middle!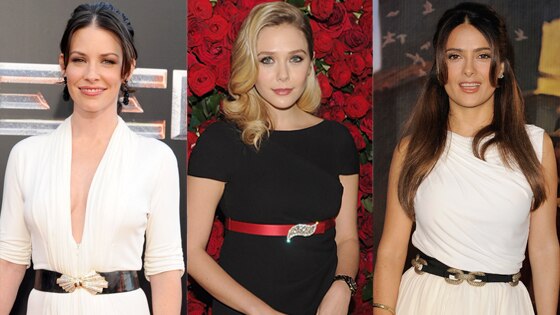 Evangeline Lily, Elizabeth Olsen and Salma Hayek


Also Here's A Red Carpet Recap About What Trends Took Over This Year's Golden Globes!