Beauty and brains . . . the complete package! Psychologist, Rorschach has apparently inspired many designers with his psychological creations and allowed us to test our fashion sense with the highly recognized personality inkblot prints. These 60s patterns have unexpectedly popped up on the preen and preppy frocks of the rich and famous. Of course, as a styling rule, with busy prints go for simple styling. Not totally psyched on the inkblot prints? Make your take on the trend by trying it out in a t-shirt version to test your personal fashion psyche.
Celebs Seen on the Scene Who Passed the Test!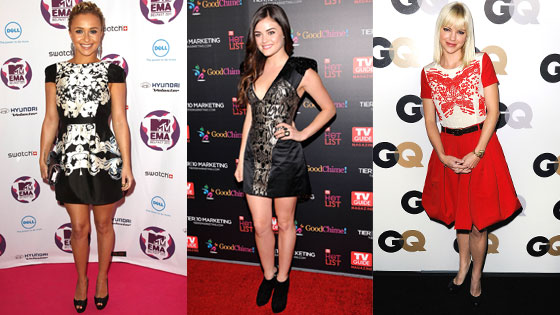 Hayden Panettiere (Tibi), Lucy Hale (Izmaylova) and Anna Farris (Preen)


Bougie Magazine is a fashion and beauty industry that promotes sisterhood and growth. The second issue titled, The Elements has finally arrived! This issue features the talented recording artist, Teairra Mari along with other emerging designers, artists and models that I have been blessed to connect with and promote! Launched January 27, 2012, Bougie Magazine will take you back to the basics with an exploration of The Elements: Earth, Air, Fire, Water. The goal is to deepen our appreciation of the substances and fuse fashion with the building blocks of the universe.
This issue will also have a winner of a giveaway by celebrity jewelry designer, Rob Bacon!
Keep a look out for my "In The Spotlight" page on the Style~ Spotlighted for more information on the hottest virtual magazine and the Rob Bacon jewelry giveaway!!!