I have never owned a pair of leather leggings. I always felt they looked like trash bags and would refrain from purchasing a pair every year they came out. But now, I'm loving leather on everything this season, including leggings, and you will too! With its seasonal comeback, they have been seen on celebrities and rocked on the red carpet event after event. If you love the rocker chic look but need to give your winter boots a break, try a kitten heel pump with stud detailing. Blend it with burgundy leather pants, a heather grey sweater and dangly chain earrings. Put your hair up in a bouffant ponytail to complete this laid-back "rock-on" look. These kinds of leggings are perfect for a music-filled outing. With a pair of lacquered leggings and a metallic blue tank, slip on a pair of multicolor flats and a quilted handbag if you prefer comfort with your style at your next concert. Paired with the right styling, regardless if your style is feminine and sweet, cozy and chic or a real-life rockstar; all these looks can be channeled and achieved with a pair of black or colored liquid leather leggings.
To make this blog a tad bit more interesting, I wanna get my readers a little more involved by having them voice their opinions of random trends that are making their debuts on the fashion scene. Every once-in-awhile, after the WTF? posting will be a "Fashion Says. . ." insert. Simply scroll down, check out the trend and vote if that particular trend should shine in the spotlight or glow dim in the shadows. Enjoy and Stay FABulous!!!
Celebs Seen on the Scene Drenched in Liquid Leggings
!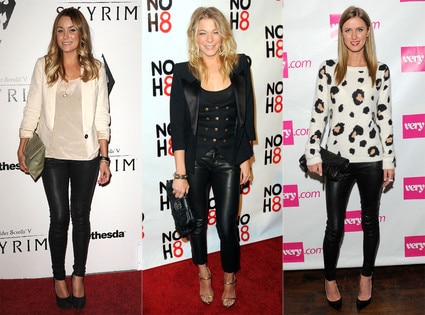 Lauren Conrad, LeAnn Rimes and Nicky Hilton
Fashion Says . . .
. . . Garter Tights