My Wonderful Fabunistas!!! Thank you so much for your support and wishes, they have truly meant a lot to me. I have finally arrived in Chicago! I've temporarily moved into my first apartment on the North side, settled in my new job as Marketing and Brand Manager for Express on the Magnificent Mile and am about to begin volunteering for some of the fashion industries of the downtown metropolitan area. After FINALLY getting my Internet connection set up, I am slowly but surely as you can obviously tell, getting back to my networking. I have some posts that I'm behind on and I already have meetings with designers and musicians for Bougie Magazine's "Spring Exposed" issue to schedule. So with that being said, expect a post almost every day from me for a little while and a lot of tweets coming at you for the love of my readers and for the desire to keep you all updated with the latest trends and the styles spotlighted throughout the fashion scene.
As promised, a few of the top trends spotlighted at New York Fashion Week on today's, The "F" Word!
NYFW Has Us Cuddling Up with Fur Collars Yet Again
!
An oldie but goodie has made a comeback and there are so many that are glad that it did. Just within the first couple of days of New York Fashion Week, the favorite trend of the fur collars has come back to us fresh off the runway thanks to designers like BCBGMAXAZRIA, JSong. . .Way, Juan Carlos Obando and Corey Lynn Calter. Transfer your winter wardrobe or keep your shoulders nice and snuggled away with a plush faux-fur colored-collar draped over your black or camel coat for a fashion update or a strapless evening gown for added drama that's winter appropriate.
http://www.mystyle.com/mystyle/b8710_fur_collars_add_luxurious_element.html
Models Up to Their Elbows in Style at NYFW
!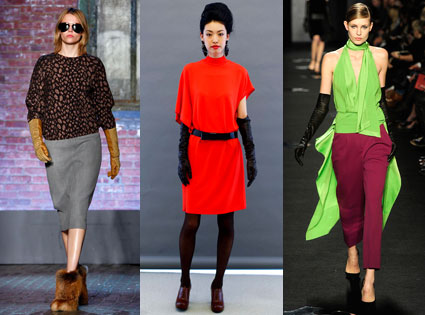 Remember those days of Audrey Hepburn and Breakfast at Tiffany's? The glamorous women of times long ago at tinsel town graced the movie screen with their infamous style consisting of a long-stemmed cigarette and elbow-sleeved gloves. This ladylike accessory of yesteryear is a relic that deserves to be relished. Models that have taken their turn on the catwalk have displayed the traditional and more modern ways to wear the fully-lengthen glove. Runway shows of Yigal Azrouel and Helios & Luna gave their show highlighting these gloves that can be worn with dresses and outerwear in full-length or with 3/4 sleeves. However, the way Diane Von Furstenberg has styled her model with the wide gaps of exposed skin between the sleeveless top and the glove gives us mixed feelings from the confusion of the seasons.
http://www.mystyle.com/mystyle/b8749_nyfw_trend_arm_yourself_with_leather.html
Dark Florals are in Full Bloom this NYFW
!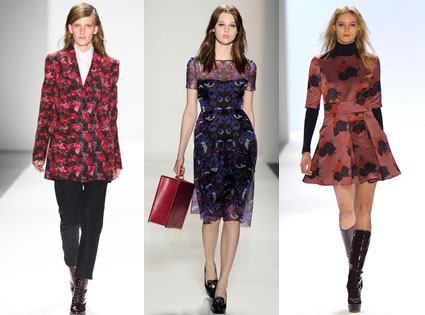 It has been noticed during the coverage of New York Fashion Week that floral prints are coming in in dark colors. I've been contemplating the mix of the springtime patterns with autumn's deep berry hues but quickly realized that they are perfect to wear during these last colder months that don't seem to be going away. But switch out your pumps for a pair of sandals and your wishful thinking for spring can surely arrive. Richard Chai has made this trend office-appropriate by transitioning the floral print from the always-anticipated frock into a blazer. Although, the floriated prints in a rich purple shade received very flattering reviews from the runway by Honor. My favorite look has to be the ultra femme take on the trend rocked by Jill Stuart who has styled the dark flowered frock with a pair of knee-high, platformed, black leather boots.