I have finally left my home of six years in San Antonio, Texas and am currently spending a couple of weeks with my family and long time friends in St. Louis before finally settling down in Chicago! I apologize again for my absence but this jet-setting has me road-"tripping" and has definitely taken me away from you guys.
Here is a quick WTF!?! to let you know that through all the madness, I'm still rocking it out on giving my readers the latest and greatest! Outerwear has given an update on another kind of winter coat that will surely have you buckling down and fighting through the rest of the winter season. Near and dear to the toggle coat, the buckled version has tightened up on the latest trend of coat and jacket closures. Even though the buckle clasps are on-trend, styling is pretty limited meaning you would have to coordinate the colors of your outfit with the buckled outerwear. You would want to stay with the same color palette or with complimentary shades that coincides with the colors of your coat or jacket but you would not want to wear too many of the same shades all within one outfit.
Celebs Seen on the Scene Buckling Down While Braving the Cold!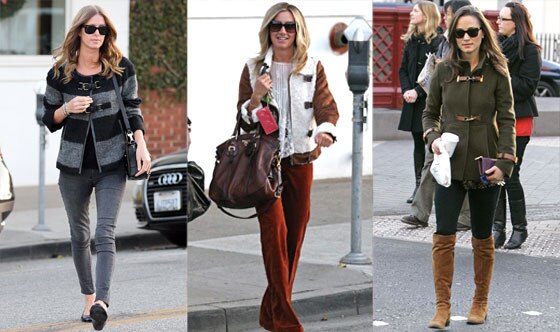 Nicky Hilton (Yoana Baraschi), Ashley Tisdale (Wink) and Pippa Middleton (Fay)