The newest take on the outerwear trend for late winter and this upcoming spring is wearing your trench coat as a cocktail dress. Now to me, a coat is a coat. I'm having a difficult time seeing it worn only as a dress. I sincerely hope that even though these trench coats, if styled correctly, can give the illusion that one is wearing a dress that the fit and fabric is weather friendly. I also greatly hope that these celebs are not treating these trenches solely as dresses where they are practically naked underneath. I'm just saying. The proper way to layer your cocktail coat on top is to wear a sophisticated party dress, skirt or short of equal length to the coat or shorter so it seems that all that is being worn is the coat like the trend permits. To obtain cocktail chicness with a trench coat is by having a slender waist cinched in the middle with a belt, lest your shape looks a little more boxy and a lot less vivacious. Secondly, opaque tights worn underneath makes this look more dressy and cold weather-ready. Lastly, view the hairstyles and accessories worn by the three celebs below: romantic hairstyles (waves, curls and updos), basic black pumps or strappy heels and chained cocktail handbags. These fashion-forward tips are taken from a stylist's point-of-view on how to chicly wear a trench coat in the form of a cocktail dress.
Join me this weekend on the Style~ Spotlighted: The "F" Word! There will be a post featuring the top trends that were spotlighted at New York Fashion Week!!
Celebs Seen on the Scene in a New Form of Cocktail Chicness!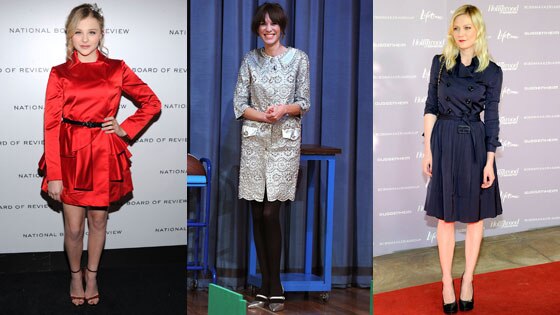 Chloe Moretz (Miu Miu), Alexa Chung (Marc Jacobs) and Kirsten Dunst (Burberry Prorsum)