Celebs Seen on the Scene Who Happily Have the Blues at Minkoff and Taylor
!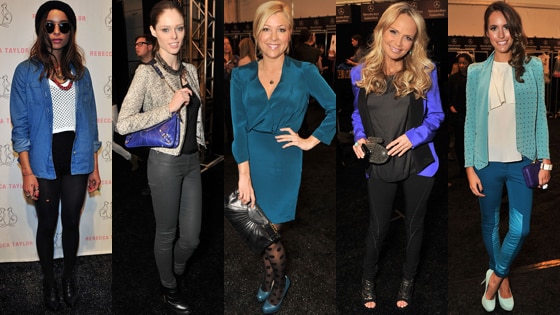 Zoe Kravitz, Coco Rocha, Jennifer Aspen, Kristin Chenoweth and Louise Roe
Sitting in the front row of fashion week were a bevy of blue beauties. From cobalt to midnight, from handbags to high heels, blue was bountiful at two Rebecca fashion shows. Blue is a passionate and strong color that can fit flawlessly into any wardrobe no matter the personal style whether it's grungy, sophisticated or edgy. A huge fan of this cool colour? Feel free to expand your outfit with up to two, no more than three different shades of blue.
It has been made painfully obvious that blue is the it colour of the season. It's everywhere in endless shades and in a variety of tones. Dive head first into this trend by having it replace your usual little black dress. There is no doubt that you will be always on top of the latest trends and looks because blue has staying power that will last from season to season. Breaking down this trend just a little bit more, LBlueDresses in cobalt colours are the tones that should be infused into your wardrobe for a look that's absolutely electric. Here are some styling tips to keep your LBlueD up-to-date throughout the entire year: Pair the cobalt frock with black or nude pumps and accessorize with silver or gold jewelry for a undoubtedly chic fall and winter look. For spring and summer, punch it up with vibrant pops of color like yellow, coral or green!
Celebs Seen on the Scene in Deep Blue Chic-Ness
!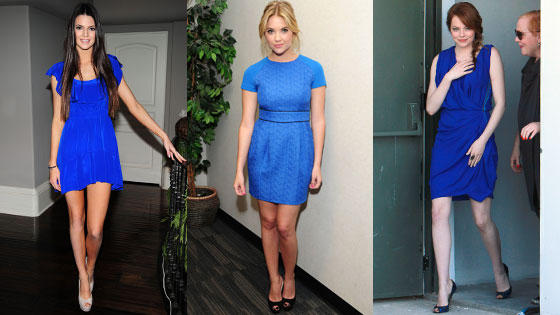 Ashley Benson, Kendall Jenner and Emma Stone