Luxurious looks ran rampant on the runway at New York Fashion Week and as a shiny alternative to sequins, lurex was the trend throughout many collections for fall. It's a little over-the-top to wear the exuberant fabric from head-to-toe but as a statement piece, I am all for it. To me, seeing these collections overwhelmed me with the thought of the Chirstmas holiday and if I was to ever try and rock this trend, which you all know I actually might do, I would find lurex to be a great option to wear for a nighttime soiree in the form of a cocktail dress or a mini skirt.
Supermodel Style in Radical Radiance!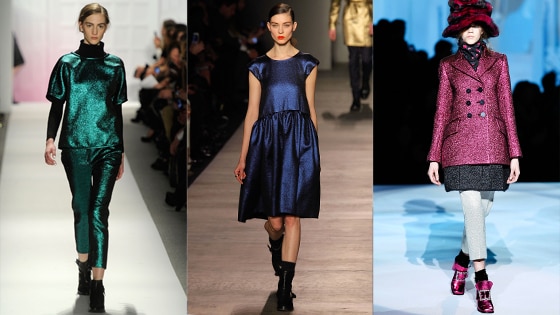 Tibi, Marc by Marc Jacobs and Marc Jacobs
You will see below a few pieces from a preview from one of the fall runway collections, Marc Jacobs. At the Marc Jacobs Couture runway show, the designer went on the other end of the spectrum where he merged fashion with theater on a granduleur scale. He also incorporated with his fall collection, a sort of crazy, cartoony Victoriana style that was truly happy and spirit-lifting. With oversized fur hats and non-body-conscious shapes, this fifteen-minute parade was a thrill to watch as it took fashion and radically crossed it over into art.