Now, I don't know about you but during these transitional temperatures when the cold is slowly going away but at the same time the heat is slowly coming in, I do not get a chance to enjoy most of those warmer days. Every time the weather is beautiful and warm and the sun is out and shinning bright, I'm stuck inside at work unable to enjoy the natural beauty of the day and the warmth from the sunshine. Well, there is a way for you to bring a little of that sunshine indoors, by way of wearing a delicious orange blazer or jacket. Now while this trend is fun and uplifting, it is far from the traditional. To keep this look office appropriate, remember to style it with classic ensembles. Whites, blacks and nudes are safe but will allow for the orange topper to standout. Dress the blazer for the daytime with a patterned sheath or blouse that has hints of orange. Or take an orange jacket out for a ride at night by creating a cohesive look with a fruity orange lip and a clutch or color-blocked platforms with matching orange tones. However, many like myself, may find this bold hue a little too fruitful. Opt for a more on-trend shade that has been very popular for the past spring and summer seasons: coral.
Celebs Seen on the Scene in a Juicy Shade for the Everyday!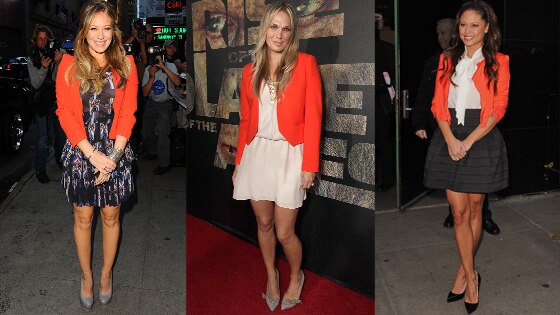 Hilary Duff (Vanessa Bruno), Molly Sims (Vanessa Bruno) and Vanessa Minnillo (BCBG Max Azria)
HEY FABUNISTAS~ This weekend I've decided to invest in a hobby called "Badge Collecting!" As you are leaving your comments about today's spotlighted style, paste within the comment box the code to your badge and I will copy/paste it onto the Style~ Spotlighted page. What truly makes this site as successful as it is is because of you. You are the reason why I do what I do and I want to make sure others see the impact you have made. Can't wait to collect and show off your badges! Stay FABulous!!