I'm Badge Collecting! Let me know in your comments of today's spotlighted style that your blog contains a badge and I will copy/paste it onto the Style~ Spotlighted page. Can't wait to collect and show off your badges! Stay FABulous!!
Fashion has taken a flashback from the 1940s a particular trend that has been shown on the runways from New York Fashion Week and they are not going anywhere. Here to stay is the fitted top with a ruffled, a-line waist to a blouse or dress known as peplum detailing. This feminine, fanned out silhouette mastered by big screen beauty, Blake Lively, adds flare and flounce while hiding those unforgiving midsection areas. Being seen everywhere, peplum dresses and peplum tops are more popular and more versatile since it is capable of being worn with a multitude of bottoms that are straight, narrow and/or fitted. This ladylike look can be given more definition and draw the eye to the standout detail of the outfit by adding a thin belt before the fabric flares out. Add some retro charm by accentuating the trend with rich gem hues like emerald, ruby and royal blue or with demure dark pieces in blacks and charcoals for a mod ensemble that fuses with Chanel.
Supermodel Style Shows Off the Peplums' Popularity!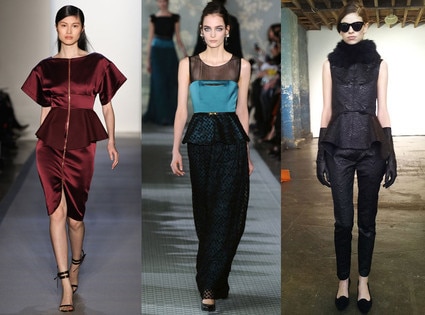 Peter Som, Tory Burch and Elizabeth & James