As spotlighted here before in an earlier

WTF? . . . Orange

is the warm color of the spring season and has expanded from blazers to clutches. Fashion doesn't just call for just any old orange clutch . . . this trend wants you to up-size this citrus accessory with an oversized handbag. Not only is this accessory the perfect outfit add-on to allow you to store more of your daily essentials than the traditional clutch, but isn't this color perfect for spring too!?! From daytime to nighttime worn with a basic ensemble, leaving the oversized orange clutch the statement piece can give your look that pop of color that you may be searching for to take on your warm weather outings.
Celebs Seen on the Scene Capture Style in their Citrus Clutch
!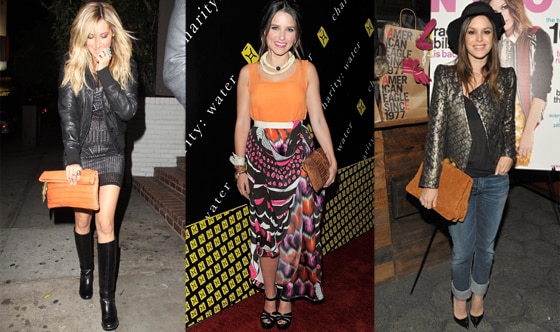 Ashley Tisdale, Sophia Bush and Rachel Bilson