. . . Garter Tights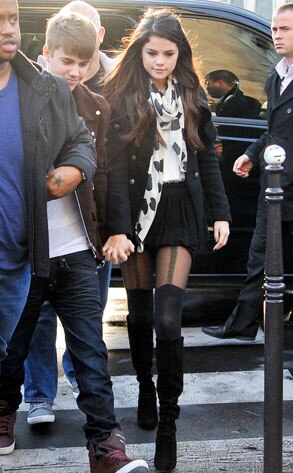 . . . Liberty Roll Hairstyles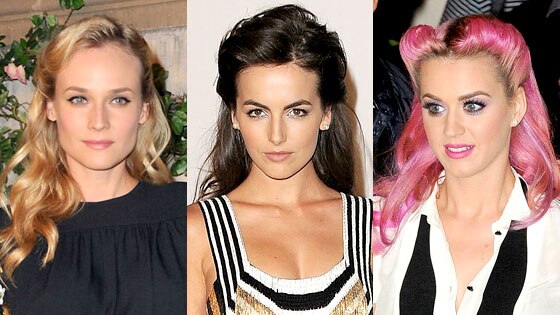 . . . Cat-Face Flats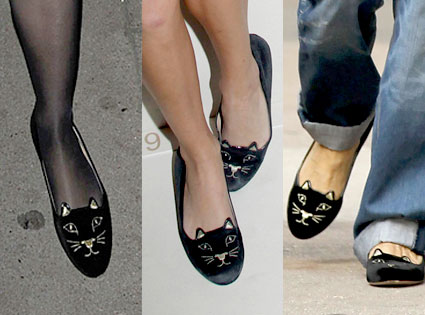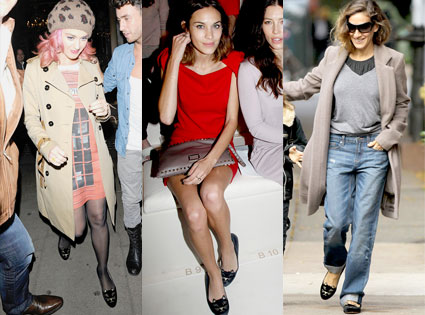 Feline lovers and feministas alike, check out these
Kitty Flats by Charlotte Olympia
! These purr-fect shoes are flat-out fabulous and have celebrities around the world sharing in their love for these cute kitty-face footwear. Sarah Jessica Parker wore them with baggy jeans while out and about in NYC. Alexa Chung gave her red-hot Valentino mini a frisky touch as she sat pretty in the front row at the designer's spring 2012 presentation in Paris. And of course, award-winning musician and cat-lover, Katy Perry showed her fancy for the feline kind in London also wearing a cat-inspired beanie.
What do you think?
. . . Cross Earrings
A vintage type of accessory is now au courant, cross earrings. An '80s trend seen on iconic fashion rockstar symbols like Madonna and Cyndi Lauper from way back when is making a comeback. Keep it edgy. Give your cross earrings sort of a rocker twist to make this look young, haute, modern and fresh for August such as Demi Lovato did with a fedora, feather hair pieces and a distressed denim jacket. Of course, for simple, dainty cross earrings like Kourtney Kardashian, make it more sweet and less punk that can be worn even with a dress or an open-stitched sweater and skinny jeans.


What do you think?
. . . Romantic Hair-Braided Styles
Braids are the sweetest, cutest hairstyles for swimtime, summertime and autumn. Twist up your locks into a milkmaid braid like Nicky Hilton and Kirsten Dunst, by sweeping hair upwards for a cool and stylish look. For a little more drama, emulate the Greek goddess mane and part your hair down the middle and letting your tresses down like Stephanie Pratt. Anything in your closet will compliment this hairstyle. Just remember to keep you makeup simple. By far, this will be your cheapest accessory during the season. You can also fake this look in less than a minute by simply using a braided headband. Another romantic hairstyle that is a hot trend for the summer are mermaid braids. These braids have been seen during Swim Week in Miami showcasing designer, Mara Hoffman courtesy of TRESemmè


What do you think?
. . . Collar Necklaces
Since the 2011 Costume Institute Gala, this noticeable jeweled necklace has become a fashion staple and a trend favorite with the ability to transcend from the red carpet to your jewelry box. There is no need to showcase a Couture Chanel like Anna Wintour but Zoe Saldana and Margherita Missoni are putting more of a modern and more youthful look to the accessory. They are truly welcoming the summer using gold metals which looks beautiful against sun-kissed skin and a simple dress. For a wearable way to get the most out of these precious gems, wear your collar necklace with a white tee with a high neckline.


. . . Kohl-Rimmed Eyes
Embrace the dark side of beauty with kohl-rimmed eyes. With this look it's all about softening to keep away from giving off the impression that your goth. Stray away from using hard black eyeliner like Amanda Seyfried. Instead soften the dramatic black eyes by using the smudging technique and go with a nude face à la Cheryl Hines. Or exercise my favorite eye look, Lea Michele, by using colored eye pencil and shadows to utilize her smoky sapphire eyes instead of black for that seductive yet captivating glare. The rule of thumb here is that when it comes to makeup: a dark lip requires a light eye and deep and bold eyeshadows should be complimented with a nude or light lip.


What do you think?
. . . Coral-Red Colored Bottoms
These warmer seasons are embracing bold colours in full-force. You have to appreciate styles that add a touch of fire to your summer wardrobe. Speaking of hot colours, coral-reddish bottoms are the trending color to be worn this season. In the above photos as you can see, the versatility of this vibrant hue is that it has the ability to spruce up your work attire. Katherine McPhee in her Alice + Olivia's and Demi Moore have the right idea, completing the look with a tailored blazer or a simple top for a more office chic look that is sure to get your co-workers hot and bothered! Denise Richards fully expresses her summer look by topping off her coral colored shorts with a floral top. All of these celebrities are smart to wear these colored bottoms with basic black footwear. Light up this style into a day look by wearing nude or even white heels instead of black. This color can be fabulously accentuated with turquoise accessories or maybe even gold if you plan on going a little more classy with this look.


What do you think?
. . . Choker Necklaces


Another statement accessory that reminds me of my youth. Again making a comeback as seen here on stars on the red carpet but coming back and worn on ladies of all ages. If you're in your 20s (Hayden Panettiere), go edgy and rock a punk style type of choker with leather and chains. For those in their 30s and 40s (Teri Polo), bedazzle your LBD with a bold and metallic choker. A true fashion icon, Jane Fonda, is able to take this fashion into their golden years with a wider banded choker that will elongate the neck and disguise signs of aging.
Haute or Shot
. . . Ankle Bracelets
Give your feet some jewelry lovin' with the ankle bracelet! The ankle bracelets are making their way back into our jewelry cases after what seems to be a long hiatus. Ankle bracelets should be similar to wrist bracelets. A little dainty, nothing to chunky or thick. Rihanna's anklet adds some sparkling sexiness to her leg while Isabel Lucas keeps it flowery and flirty. Jenni J. Wow Farley's over-the-top peek-a-boo dress still did not divert attention away from her gigantic spiked metal cuffed bracelet. Along with Jenni's knuckle bracelet please keep the rubberbands and hair-ties off your feet as well.

Fave or Fail?
. . . Head-to-Toe in Animal Prints



Luxe leopard spots and ravishing reptilian prints have flaunted the runways, rocked the red carpets and hung in our closets since almost the beginning of fashion itself and will remain at style staple for many seasons to come. But is it safe to say that drenching yourself in these prints from head-to-toe maybe a bit too much? Patina Miller is seen here in New York City attending the Tony Awards in a stunning Naeem Khan gown with simple earrings and her hair pulled clean back into a tight bun. Meanwhile, on the other side of the globe in London, Jennifer Lopez attended the Capital Radio Summertime Ball in a Lanvin creation with a pair of matching, thigh-high Chiristian Louboutin boots.

Stylistic or Tragic?
Maybe it's from the popular box office feature and psychological thriller, Black Swan but this feathered ceature of grace is featured on dresses and just in time for this year's spring. Even though for me the fashion is newly-found, this style has been traced as far back as 2009. Collections have been seen on the runway by Minimarket, Junko Shimada and Marc Jacobs. Swan inspired accessories were created by designers such as Mori & Mimosa, Braccialini and Minna Parikka. An entire collection from head to toe, from wrists to rings have been dedicated to the swan for years now by countless designers and there isn't a sign that this trend will fly away. Have no fear about becoming the Ugly Duckling and add a swan-inspired dress to your closet.