Versatility is a highly essential element of fashion. Investing in today's styles that are versatile can have a wide variety of looks and uses. They can be worn from day to night or from simple to sassy to sophisticated. This page is targeted for the savvy shopper who searches for adaptability in their apparel. See what's hot, read how it's worn, and incorporate your own ways to make your favorite wardrobe items versa-style.
November 5, 2011
~Thigh-High Boots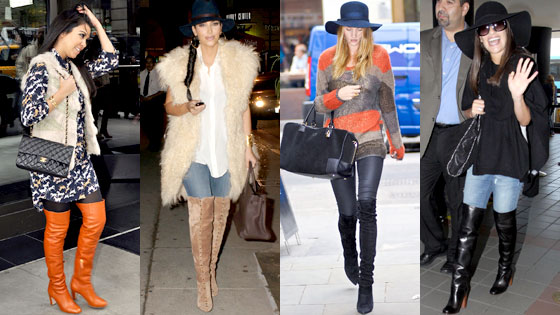 INF Photo, Flynet Pictures, Splash News
Thigh-high boots have been synonymous with border
-line street-walker but seem to have a modern twist that can be more haute in street-style. In today's fashion, thigh-high boots are super mainstream and have been worn by many starlets as you can see above. First, we have Kourtney Kardashian spotted in New York in Chanel cognac colored boots. The boots are cute but the look overall is a bit much. If she opted for a navy boot it would have pulled the look more together. However, with the printed blouse and the fur vest, Kourtney could have also sacrified one of those statements pieces to save her style. Now for her sister and style icon,
Kim Kardashian
, I am really loving her monochromatic look while wearing a pair of suede Valentino thigh-highs on the streets of L.A. Model/actress,
Rosie Huntington-Whiteley
has been captured in London in a pair of stretch suede boots that look really good on her tall and slender frame. Although, these types of boots do not favor very well on thicker legs. This can lead to the love/hate relationship that thigh-high boots discriminate against more curvacious women. But look back at Kim K! Lastly, we have
Lea Michele
pulling off more of a JLo/Kimmie look in a shiny and slick pair that would have looked a lot better with a pair of darker blue or black jeans to further elongate her legs. Love 'em or hate 'em, thigh-highs with their "reach for the sky" profile will surely elevate your look to a skyscraper style that will have you towering over all other footwear.
July 30, 2011
~Short Shorts
Short shorts can be worn not just for day but also for night. Zoe Saldaña was at the Captain America premier in a pair of short shorts by a resort 2012 collection. Wear a bold printed top with shorts so it's not so overwhleming. It has been noticed that this past spring and summer, girls love the high waisted short because the higher you go up there in the waist, the shorter you can go down there and not look like hoe! Kourtney Kardashian wore crocheted shorts, a reminder of Jodi Foster in Taxi Driver and with a pair of nice chunky wedges by Louboutin.
June 11, 2011
~Summer's Twist on Nautical Stripes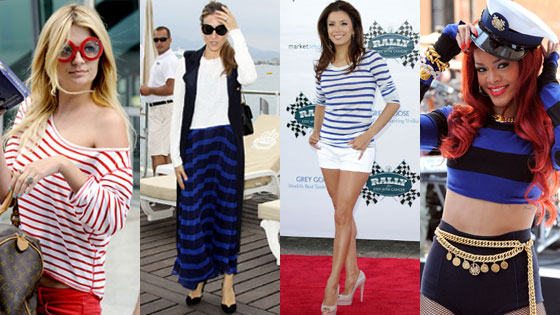 The nautical trend first appeared in January of this year where during the the winter time, the nautical sailor style consisted of dark navy blues, whites and golds predominately in solids or thick patterns. Now this trend has continued on into the summer and with a twist. Sailor stripes is being seen on many celebrities and is the driving trend of countless retail stores and I personally can't get enough of it. All Fashionists On Deck because nautical is the hot trend for the summer season. It's all about boat shoes and stripes in red, navy and white. This style is very crisp, very fresh and very Americana! First, I got to say, I love
Mischa Barton's
red-framed sunnies! But starting with
Sarah Jessica Parker
, she is pictured above channeling her Carrie Bradshaw in Alexander McQueen's captain blazer with brass buttons, a Fisherman's Sweater and a Halston Dress with nautical stripes.
Eva Longoria
is appearing at a rally for Cure for Cancer in Miami in her red carpet version of the nautical trend. A more wearable version for the everday stylista is if you wanted to trade in the nude peep-toe platform pumps for a pair of rope espadrilles, the "it" footwear for the summer.
Rihanna
is pictured here performing at The Today's Show taking the trend to the stage. She is wearing a nautical striped top, high-waisted shorts from Louboutin's 2011 fall collection and to commerate her naval aspirations, a sailor's hat and fishnets (go figure!). This nautical trend screams summer that will always look clean and put together. But what's best about this style that's completely versatile is that it's a high fashion look that can be imitated for a low price. Make waves with the new nautical trend. Fashionistas Ahoy!
May 14, 2011
~The Well-Suited Jumper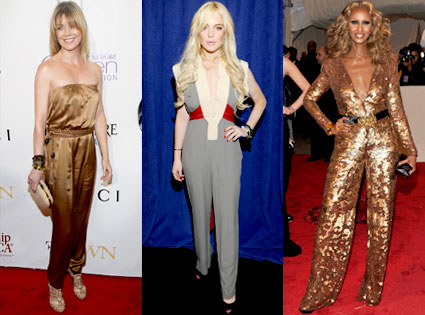 This month's trend that you gotta have, according to the stylist panel from E! Hollywood's Fashion Police, is the jumpsuit. Give up your separates and opt for a one-piece ensemble that is simple, comfortable and now stylish. This versa-style piece can be transformed from day to night, from cazh to class.
Ellen Pompeo
kept it relaxed while
Lindsay Lohan
looked sophisticated in a clean and tailored version of the jumpsuit.
Iman
showed us a bronzed goddess of herself in a shimmer and shine pant jumper meant for the red carpet and camera flashes. Stunning!
April 8, 2011
~A Feathered Flock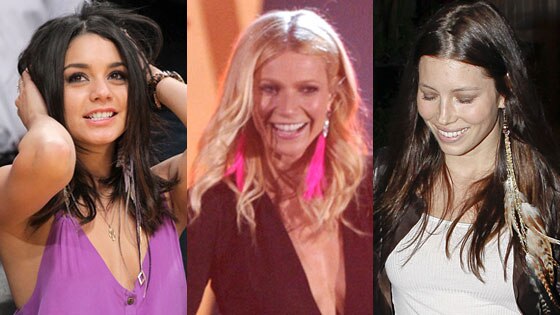 This season's newest accessory trend has migrated to the ears of starlets spotted on the scene in feather earrings. It was first noticed on
Gwyneth Paltrow
at this year's Grammy Awards and her pink feathers with diamond accents by Wilfredo Rosado definitely won for "Best Accessory". These feathered pieces can be bought for $5 and they can be bought for $5,000. My fave is
Vanessa Hudgens'
edgy and sweet bohemian look while the newly single,
Jessica Biel's
take on the trend completely fell out of the nest. Jessica stays au courant by wearing Seraphi by Design adjustable feather earrings. Seraphi by Design's adjustable feather earrings are meant to be worn as a pair not hooked together and worn mono (Biel!). They are designed to be adjusted to the length of your hair and then blended in. There is one celebrity who has made feathers his signature style. Just like when you think of a business man you think of him in a suit and tie, the American rock singer and multi-instrumentalist, Steven Tyler, can't be thought of without feathers and a scarf!
March 26, 2011
~Crazy over Color-Blocking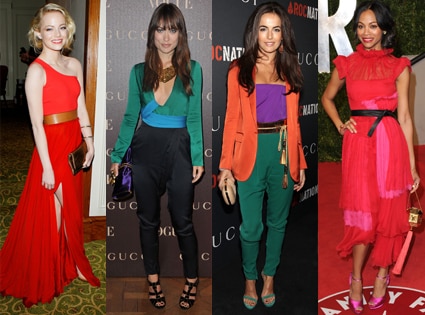 Hollywood has Spring Fever and it's driving them crazy over color-blocking with vibrant and bold colours. Designers such as Lanvin, Gucci even Roc Nation have already expressed their colour craze in their collection wore on celebrities like

Emma Stone

, Olivia Wilde

and

Camilla Belle.

Zoe Saldana

is crimson perfection in an eye-popping dress by Prabal Gurung highlighting layers of reds and pinks. As obviously stated, this month is all about color-blocking: the fashion trend of the season with spring colours: fuschias, corals and teals

.
February 13, 2011
~Wear with Flare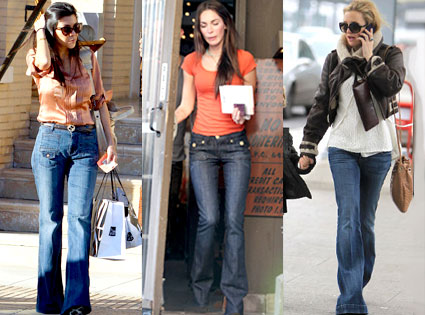 Ramey

Photo

; Fame

Pictures

; PacificCoastNews.com
Spring clean your closet by ditching those skinny jeans and trading them in for a pair of the wide-legged flare jeans. Wearing a flare leg jean like
Megan Fox
should be long enough to come just above the ground barely showing the bottom of the pump which with a high heel can elongate your legs. Wearing the flare jean with a low waistline elongates the torso making it look slimmer. I am a personal fan of the high waisted wide leg jean like
Kourtney Kardashian
. It's perfect for you if you want to define your waist and create a more curvaceous silhouette.
Kate Hudson
who is widely known for her "hippie" laid-back style can be mimicked when wearing a flare leg jean with more of a boyfriend cut that is straight through the hips and thighs.
January 30, 2011
~The Big Bang Theory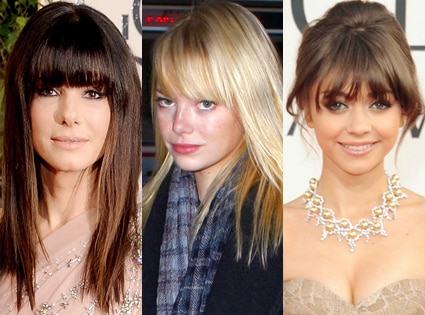 Steve Granitz/WireImage.com; Larsen/Tony/INFphoto.com; Jason Merritt/Getty Images
Want to take years of your face? Or if you're like me and hate having a forehead with the circumference of a globe, bangs is a significantly inexpensive alternative to Botox. This hairstyle was seen on the Red Carpet at the Golden Globes by
Sandra Bullock
who brought sophistication to the look. Bangs on
Sarah Hyland
accentuates her youth making her look young and fresh. Or . . . you can treat bangs like an accessory
(
Rihanna
).
But this look is not favored by everybody. According to the Big "Bang" Theory, you either like it or you hat
e it.
January 16, 2011
~Stars & Studs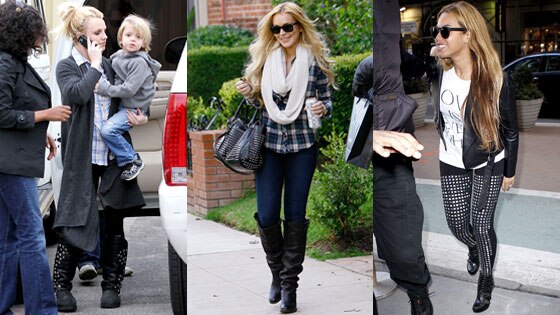 Fame Pictures; CR/INFphoto.com; INFphoto.com
Life in the Spotlight can put anyone over the edge but display that edginess fashionably on your wardrobe. Don't need to be a rocker or a biker to show a little of your hardcore side. Accentuating it on an item from your outfit.
Britney Spears
in bedazzled duds,
Lindsay Lohan
and her grommet carrier, and
Beyonce
shows in her leggings how she's hooked on the hardware. I am a lover of accents and am know to rock this look from time to time, but for right now, I would love to see less studs on celebrities and more on the Red Carpet

-wink wink.